9 September 2023

Dar es Salaam, Tanzania – Two visionary agripreneurs clinched top honours in the fifth annual GoGettaz Agripreneur Prize Competition Finals held at the Africa Food Systems Forum Summit 2023. During an exciting Youth Town Hall event chaired by H.E. President Samia Suluhu Hassan of Tanzania, Generation Africa awarded two grand prizes of $50,000 to Ms Hasina Andriatsitohaina, Founder and CEO of Mad'Arom in Madagascar, and Mr Ikenna Nzewi, co-Founder and CEO of Releaf Africa in Nigeria.
Four GoGettaz Impact Award Winners were also announced at the closing Youth Innovation Awards Celebration the following day. Each Impact Award winner received a US$2,500 prize. Recognising the extraordinary contributions of all twelve GoGettaz young entrepreneurs who travelled to Tanzania to compete in the live pitch contest from across the continent, Generation Africa partner USAID donated a further US$1,000 to each of the remaining six finalists. All Gogettaz winners were lauded for their entrepreneurial vision, diligent preparation, expertly crafted on-stage pitches, and the innovative new businesses they've each launched in Africa's agrifood sector.
"This year's summit theme is 'Recover, Regenerate, Act: Africa's Solutions to Food Systems Transformation.' Far from being a distant hope, these GoGettaz have demonstrated to everyone at the Summit that they are Africa's solutions," said Dr Agnes Kalibata, President of AGRA. "I hope the investors were paying attention because I can clearly see how some of these businesses have the potential to impact millions of lives across the continent in the next decade."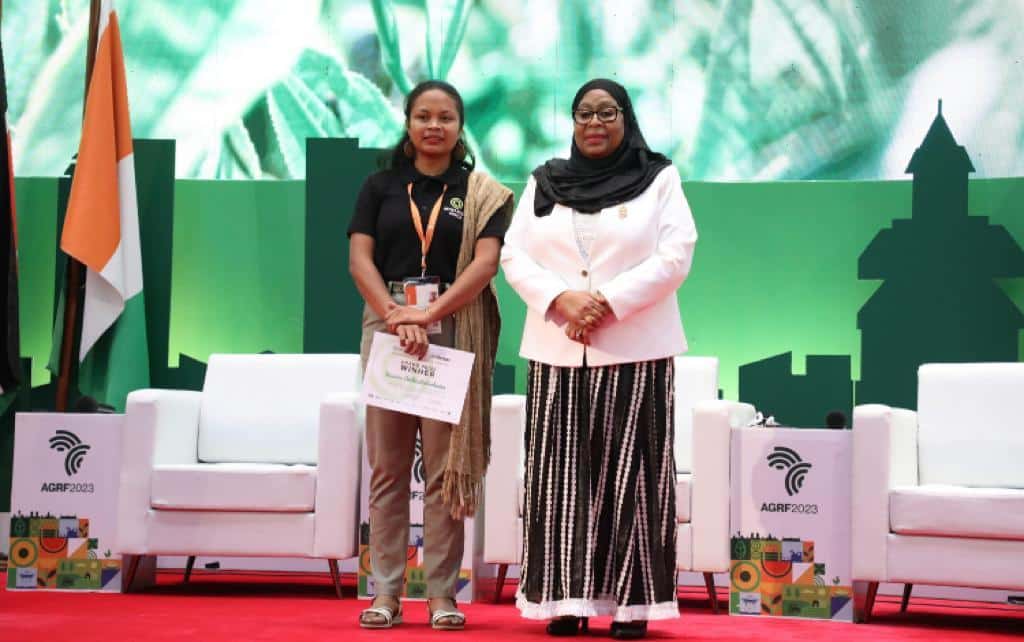 A food technology specialist engineer in agriculture and environmental sciences, Hasina Andriatsitohaina of Madagascar received this year's grand prize in the female-led category. Hasina's company, Mad'Arom encourages the development of the spice and aroma value chains by promoting the agroforestry system with around 2,000 producers in rural areas of Madagascar, and by collecting and transforming the products into essential oils before wholesaling it to the food, cosmetics, and perfume industries on the national and international markets. The agroforestry system not only preserves and restores Madagascar's soil and biodiversity, but also generates income for small-scale producers throughout the year. The post-harvest processing of spices is an important activity, generating jobs for young people and women in rural areas. These activities enable small-scale producers to be more resilient in the face of climatic disasters, such as the cyclones that attack the eastern part of Madagascar each year.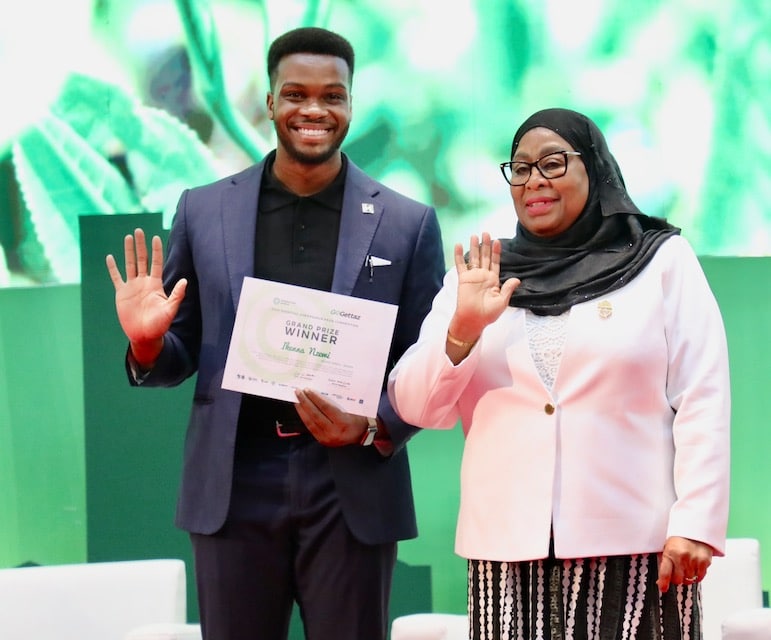 The grand prize in the male-led category went to computer scientist Ikenna Nzewi, of Releaf Africa in Nigeria. Its value proposition is lowering food costs through efficiency, which it achieves with both software and hardware solutions. Returning six years ago to his home country of Nigeria after growing up and studying in the USA, Nzewi's multi-pronged approach features geospatial software to find viable farms and a mobile platform to purchase oil palm fruit from rural small-holders. To process the palm nuts in a sustainable and environmentally sensitive way, Releaf designed the world's most advanced palm nut de-sheller, named "Kraken". So far, Releaf has worked with 5,600 farmers with a retention rate of 86% and put an additional $500,000 in their pockets while eliminating child labor, providing access to finance, and improving traceability using artificial intelligence. Releaf plans to add 20,000 more farmers in the next five years.
Strive Masiyiwa, Chair Emeritus of AGRA and Generation Africa founding member, expressed his admiration for the innovative spirit of all the young entrepreneurs taking part at this year's AGRF Summit: "Our continent's young agripreneurs are a testament to Africa's innovative vision in action. I salute all our entrepreneurs, hailing from across Africa. The young men and women who competed in the live pitch competitions at the AGRF Summit this year are each winners for our continent, whether they received a prize on stage or not. We must continue to celebrate and support these amazing young people, most of whom designed innovative technology solutions to tackle both food system and environmental challenges while creating new businesses and jobs. Generation Africa's agripreneurs are leading the transformative change that needs to happen across Africa's agrifood sector."
Amath Pathe Sene, Managing Director of the Africa Food Systems Forum, underscored the significance of amplifying youth-led businesses at the AGRF Summit, "We bring together policymakers and industry leaders, so conversations can evolve into actionable solutions. Youth-led businesses like these impressive GoGettaz finalists belong in the conversation because their innovative ideas are pivotal to shaping the future food system."

GoGettaz Social and Environmental Impact Award Winners
Biotechnology entrepreneur Pelkins Ajanoh, founder of CassVita in Cameroon, impressed the judges with his proprietary process using microbes to extend the shelf-life of cassava from 3 days to 18 months. Community development specialist Margaret Wanjiku, founder of Pollen Patrollers in Kenya, developed an IoT smart device to track beehive metrics that are analysed by AI to create actionable insights and precision pollination maps to help farmers more effectively pollinate their fields. Hailing from Sierra Leone, electrical engineer Martin Dainbaquee, founder of Eco-friendly Incubator Company, designed an innovative high-capacity solar-powered incubator, its own chicken breeds, and high quality feed, tackling several needs in the egg and poultry industry including over-dependence on foreign imports. A biotechnology specialist with expertise in plant tissue culture, the youngest finalist this year was Impact Award winner Crescentia Mushobozi of Tanzania Vijana Agribusiness Enterprises (VIABLE). Her company has developed a superior potato strain, engineered with Africa's largest gene bank, in her vision to solve malnutrition and food insecurity. In the process, VIABLE involves thousands of Tanzanian youth in "making agriculture fun".
GoGettaz Impact Award winners were celebrated at Friday's Youth Innovation Awards ceremony alongside winners of the agritech-focussed Pitch AgriHack Awards and the AYute Africa Challenge, both funded by the Heifer Foundation.
Generation Africa founding member Svein Tore Holsether, President and CEO of Yara International, emphasized the urgency of youth efforts in food systems transformation and the essential role of young entrepreneurs, stating, "In the face of mounting food security challenges, it is imperative to revolutionize our food systems. Young entrepreneurs are the torchbearers of sustainable solutions. We are proud to support their endeavours in reshaping the future of food."
The twelve GoGettaz Agripreneur Prize finalists travelled from across Africa to pitch their businesses live on stage to nine GoGettaz Judges. For the fifth year in a row, the Grand Finale Pitch competition featured well-known international choreographer Sherrie Silver from Rwanda who dazzled the stage with young dancers from Tanzania and across Africa. An IFAD Advocate for Rural Youth, Silver also served as Generation Africa's Master of Ceremonies throughout the week.
Along with online coaching, the twelve finalists received two days of in-person pitch training at the Summit. Additional networking sessions and facilitated participation in the AGRF Agribusiness Deal Room gave the youth-led businesses an opportunity to connect with future partners, investors, and collaborators.
Dickson Naftali, Head of Generation Africa, called on the youth to follow the example set by the GoGettaz agripreneurs, "If you want to make a real difference, to help people and build a healthier planet, the agrifood industry is where your energy will find purpose. The truth about our future is that we need an African food system that is African-owned and African-led. And we want to reach as many young Africans as we can with this message."
The 2023 GoGettaz campaign reached almost 7 million people, bringing half a million visitors to the Generation Africa website and GoGettaz community platform. The fifth annual GoGettaz Agripreneur Prize Competition received completed applications from 43 African countries, with 9 countries represented in the Top 12. Application data also shows an increase in female applicants this year. This is a very encouraging shift in an industry that is perceived as male dominated, while the reality of African food production is very much in the hands of women small-holder farmers.
With the conclusion of the Africa Food Systems Summit, the GoGettaz Agripreneur Prize Competition is also completed for the year. Applications for 2024 will open again in April/May next year. The industry-leading partners and sponsors of Generation Africa are proud of the exceptional innovation, dedication, and leadership displayed by all the young entrepreneurs who participated this year throughout the process. Coming into focus for the rest of 2023 are mentorship programmes, such as the Generation Africa Fellowship Programme, and the important work of reshaping national policies for better support of youth and women in agriculture. The new Generation Africa Online Academy was also launched at the Summit this week, in an exciting partnership with Microsoft which designed the platform.
---

2023 GoGettaz Agripreneur Prize Judges
Marisa Soares – Senior Vice President Innovation & Impact – Yara International
Dr. Kelley Cormier – Food Safety Division Chief – USAID Bureau for Resilience and Food Security
Jean Muthamia-Mwenda – Global Lead, Youth Employment & Entrepreneurship – SNV Netherlands
Mildred Nadah Pita – Head Public Affairs Science & Sustainability Africa – Bayer AG
Agnes Asiimwe Konde – Vice President – PID – AGRA
Jubilate Lema – Senior Investment Analyst – Africa Opportunity Fund
William Nyaoke – Regional Director East-Africa – Norfund
Paul Newnham – Director – SDG 2 Advocacy Hub
Wambui Chege – Director, Agriculture, PANA – The Mastercard Foundation
Generation Africa Co-Founders:
African Development Bank Group: https://www.afdb.org/
Alliance for a Green Revolution in Africa: https://agra.org/
The AGRF (Africa Food Systems Forum): https://agrf.org/
Bayer: https://www.bayer.com/en/agriculture
Corteva Agriscience: https://www.corteva.com/
Econet Group: https://www.econetafrica.com/
Heifer International: https://www.heifer.org/
Norwegian Agency for Development Cooperation: https://www.norad.no/
Southern African Confederation of Agricultural Unions: http://www.sacau.org/
Syngenta Foundation for Sustainable Agriculture: https://www.syngentafoundation.org/
U.S. Agency for International Development: https://www.usaid.gov/
Yara International: https://www.yara.com/
Full List of the 2023 GoGettaz Agripreneur Prize Top 12
Female Agripreneurs
Jannifer Muthike, Dudu Masters Limited, Kenya,
Website: https://dudumasters.com/
Dudu Masters in Kenya is on a mission to restore Africa's degraded farmland with its soil-enhancing Kijanni VermiCompost, a sustainable and affordable fertiliser bio-converted by insects from the organic waste of hotels and schools. Dudu Masters is sharing its skills and expertise by training 5,000 students in regenerative agriculture and insect farming.
Patience Ben, Farmavi Agro, Nigeria
Website: https://farmavi.com.ng/
Farmavi Agro in Nigeria brings social impact and agriculture together with a range of products that upcycle sawdust, cassava waste, and seaweed into food and fertilizers. Its goal is to reduce waste, tackle poverty and malnutrition, create employment opportunities (especially for women), and mitigate climate change.
Hasina Andriatsitohaina, Mad'Arom, Madagascar
https://www.linkedin.com/in/hasina-andriatsitohaina-2b2042a6/
Madagascar is rich in biodiversity, including aromatic and therapeutic plants, a signature of Madagascar on the international market due to their authenticity. The development of these spice and herb value chains is one of the main pillars of development in Madagascar's rural areas. The income generated by the sale of these products by Mad'Arom enables poor households to meet their food and health needs year-round and send their children to school.
Patrice Wachira, Patvention Recycling Enterprise, Kenya
Website: https://patventionbeekeepers.business.site/
Patvention Recycling Enterprise in Kenya transforms plastic waste into durable, weather-resistant, and pest-resistant beehives. Its capacity-building initiatives and training workshops are introducing new farmers, especially women, to beekeeping and improving beekeeping practices.
Margaret Wanjiku, Pollen Patrollers, Kenya
Website: https://pollenpatrollers.com/
Pollen Patrollers is making beekeeping in Kenya smarter with an IoT device that measures temperature, humidity, sound, foraging activity, and queen status. It uses AI and machine learning to analyse the data to create actionable insights and precision pollination maps for beekeepers and growers.
Crescentia Mushobozi, Tanzania Vijana Agribusiness Enterprises, Tanzania
https://instagram.com/tanzania_viable
Tanzania Vijana Agribusiness Enterprises (a.k.a. VIABLE) believes its superior potato strain, engineered in collaboration with Africa's largest gene bank, is a key piece in solving malnutrition and the potato shortage in Africa. Its first 1,000 disease-free potato seeds yielded a 5-tonne harvest in six months. This youth-led enterprise is ready to scale.
Male Agripreneurs
Pelkins Ajanoh, CassVita, Cameroon
Website: http://www.cassvita.com
CassVita believes climate resilient cassava root is the key to food security in the face of climate change in Africa. Its post-harvest processing techniques extends the shelf-life of cassava from 3 days to 18 months, helping rural farmers in Cameroon get real value from their crops.
Tafadzwa Ron Chikwereti, eAgro, Zimbabwe
Website: https://eagro.co.zw/
eAgro takes the guesswork out of farming in Zimbabwe by bundling complex technologies into a user-friendly WhatsApp chatbot. Their CropFix A.I. chatbot uses photos from a farmer's mobile phone to diagnose pests and diseases and provide relevant, location-based agronomic advice in seconds.
Martin Dainbaquee, Eco-friendly Incubator Company, Sierra Leone
https://www.facebook.com/profile.php?id=100070891084524&mibextid=ZbWKwL
The Eco-Friendly Rechargeable Incubator and Local Animal Feed Processing Company has a name that says it all. It is reinventing the ailing import-dependent egg and poultry industry in Sierra Leone with locally manufactured high-capacity incubators, its own specialised chicken breeds, and a consistent supply of high quality feed.
Imani Bora, Hatch Plus, Rwanda
Website: https://twitter.com/SolutionsHatch
Hatch Plus in Rwanda provides automated solar hatching stations as a service, where it uses AI and computer vision to track egg fertility. Its deep learning software, Agroid, delivers poultry farming advice via SMS, giving smallholders access to affordable, healthy chicks, and real-time assistance to thrive.
Ikenna Nzewi, Releaf Africa, Nigeria
Website: https://www.releaf.africa
Releaf in Nigeria is taking a holistic approach to eliminate inefficiency in the food value chain. They use their geospatial software, SITE, to find farms, their SALT software to buy crops from farmers, and Kraken, the most advanced palm nut de-shelling technology, to produce vegetable oil that is sold to food factories.
Yohan Gallet, Sealife Organics, Mauritius
https://www.linkedin.com/in/sealife-organics-2b185a209/
Sealife Organics in Mauritius hopes to repair its soil and sea from the damaging effects of rampant chemical fertilizers use, and is turning to the ocean for answers. Sealife Organics produces organic fertilisers that don't poison the environment using sustainably sourced seaweed and organic waste.
Contact: Jane Machigere
jane@jsmcommunications.com
https://www.genafrica.org