Air, food, water, and sleep. Take away any one of those and you will die.
By understanding the existential nature of food, (and its impact on our water, air, and sleep) we can better understand how something so simple has a massive impact on absolutely everything around us.
From planting a seed in the soil to scraping the after-dinner scraps into the garbage, the food system has an effect on our planet, our society, and our economy.
Multifunctional Agriculture is an effective model to grasp this impact.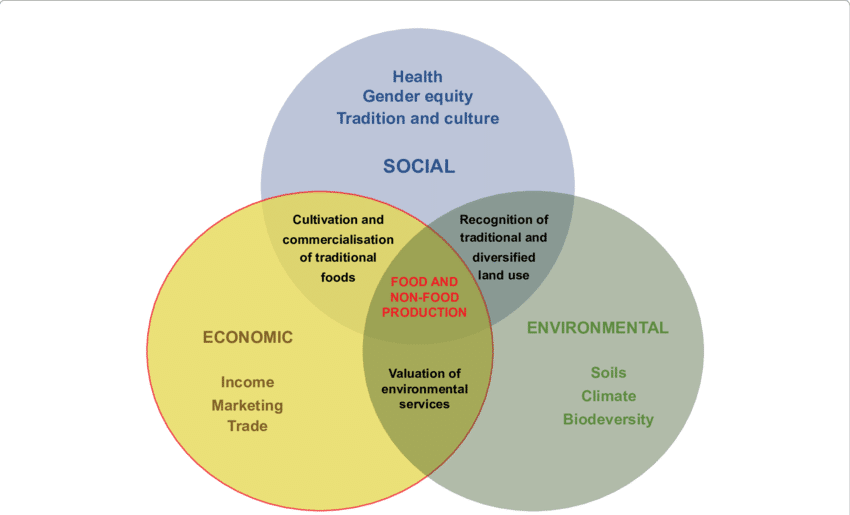 We cannot ignore "the inescapable interconnectedness of agriculture's different roles and functions," as Roger Leaky quotes in his paper on Socially Modified Organisms in Multifunctional Agriculture.
On a global scale the detrimental effects of the agrifood industry have gradually become obvious over the last 50 years. Food comes with a gigantic responsibility that our species is yet to embrace. And that is a wonderful opportunity to do better!
At Generation Africa, we believe growing Africa with the best knowledge available to us today, we will grow a fulfilling life for all the people of the continent. That is why we support youth to take full advantage of these opportunities and inspire them and guide them to build a climate-smart, sustainable food system.
Since the first GoGettaz Agripreneur Prize Competition we have witnessed how young people across the continent are striving to do better. They find ingenious ways to leverage the interconnected aspects of the agriculture and food systems to build scalable business models that uplift their communities, improve the environment and stimulate their local economies.
Let's look at the three core interconnected aspects of food that make their businesses so inspirational:
Food is about the natural environment
Food production and climate change are closely linked. Destruction of the natural environment, like slashing and burning of rainforests for farming, has had a devastating impact on the planet.
Now climate change is threatening food production with longer droughts, stronger cyclones, and far hotter temperatures that some crops can handle.
As more wild places are destroyed, and thousands of species go extinct every year, we are losing biodiversity that is crucial for our food system to work.
We need natural forests and indigenous wild plants that give pollinating insects, like bees, plenty of food so their colonies stay strong. We need nutritious soils filled with organisms like mycorrhizal fungi that help plants absorb and exchange nutrients. And we need to explore alternatives to unsustainable legacy farming practices.
Eco-minded businesses are embracing this opportunity. 2019 Alumnus Ecodudu (Kenya), 2020 GoGettaz winner MagoFarm (Rwanda), and 2021 Impact Award winner AgriLife (Tanzania) and fellow 2021 alumnus ProSect Feed (Ghana) all have one thing in common! Each of these companies use Black Soldier Flies to convert bio-waste into livestock feed and organic fertilizer.
Their businesses help the environment by replacing environmentally harmful fishmeal and unsustainably soya with insect protein that upcycles waste. As a by-product, their organic fertiliser puts nutrients back into the soil, without the toxic run-off created by overuse of chemical fertilisers.
Young, African agripreneurs that use precision agriculture, agrobiodiversity principles, and regenerative agriculture will become the leaders in food production in the coming decades.
Food is about people
When you think of sushi, do you also thing of Japan? Or if I say "India", are you imagining a curry?
Picture a delicious Ethiopian injera, or Moroccan tagine with its iconic cone-shaped lid. Maybe there is a joint in Lagos that makes a Jollof Rice that reminds you of your grandmother's cooking.
Food is much more than just sustenance. Food is a cultural identity.
It has an impact on how we structure our societies. Control of food production and ownership of the land that is used for it, determines the power dynamics in our communities. And access to healthy, nutritious food supplies determine if our people are healthy and strong.
Socially conscious businesses understand these dynamics and the impact on their communities.
Agrowomen in Mali (2021 Impact Award winner) is fighting for women empowerment in the agriculture industry, as well as food security in Mali by promoting local consumption of locally grown grains and oilseeds. Agrowomen supports female farmers by processing their sesame seeds into oil and snacks, and by processing and packaging their rice. The also sell other products from these women agripreneurs on their Agrowomen platform.
Siny Samba of Senegal's Le Lionceau (2019 GoGettaz alumnus) is on a mission to get healthy, immune-boosting food to the smallest members of her society. They produce natural baby food without preservatives and colourants, made with nutritious, ingredients sourced from local farmers. By using ingredients like baobab fruit and fonio, they are promoting cultivation and commercialisation of traditional foods.
Food is about the economy
By growing local food businesses to scale, economic wealth remains in the hands of local people. Building and scaling African companies is important for two reasons: firstly, it reduces the reliance on imported food which sends capital overseas and, secondly, local food production, on a scale that will feed the entire populous of a country, is essential to eliminate hunger and food insecurity.
Scalable local businesses that create local jobs and develop local supply-lines can become pillars of economic stability for their communities.
One good example is 2019 GoGettaz alumnus Reelfruit (Nigeria). CEO Affiong Williams is upscaling her business. Securing investment for the upscaling, they are boosting production from 6 tonnes a month to 30 tonnes a month. 15 tonnes of dried fruit is destined for the export market brining foreign capital into Nigeria. For the local economy this scaling means 200 extra jobs. To develop their supply, ReelFruit is also forming an agro-extension service program to help farmers optimise their businesses and their yields.
Supporting Africa's Youth Agripreneurs
The entrepreneurial spirit of Africa's youth is impressive. However, the agrifood ecosystem that they must fix is far too big and complex to navigate without support.
Initiatives are necessary to help African youth overcome hurdles in education, financial investment, and institutionally ingrained legacies that prevent their participation in the food system. That is why Generation Africa was formed.
Growing support for African youth in the agrifood space is promising a bright future on the continent. 2022 will be an exciting year with many upcoming Generation Africa initiatives.
The GoGettaz Agripreneur Prize Competition and Pitch AgriHack will put the spotlight on some of Africa's most exciting young businesses and provide financial support for them to grow.
Three of our GoGettaz Community members are graduating from the University of Utah – David Eccles School of Business with Master's Degrees in Business Creation. And a second cohort of promising entrepreneurs will benefit from full scholarships in 2020.
The Youth in Agriculture Ecosystem Development Framework (Y-EDF) is also being implemented in Rwanda. The Government of Rwanda will use the recommendations generated by the programme to bring stakeholders together and channel resources to critical technical gaps.
"The right structure, where all important value chain actors are talking to each other, will be the foundation to create sustainable youth opportunities and jobs at the country level," says Dickson Naftali, Head of Generation Africa.
By directing the healthy, sustainable growth of the agrifood industry, we can create a healthy planet, healthier societies and hopefully an economy where success is measured by the advancement of wellbeing.
If we grow Africa sustainably, we will grow life for everyone on the planet.The 2022 GoGettaz Agripreneur Prize Competition is launching soon. Follow us on social to stay updated, so you don't miss out.